Campaign Manager
Campaign Manager helps you create personalized promotional messages and send them to your audience on WhatsApp. You can create a campaign for the entire audience of your chatbot using a template or send a free form message to your active audience.
This article will help you get familiar with the basics of  building campaigns in the Campaign Manager.
Things to know:
Before you can create a campaign in Digital Connect Campaign Manager, you'll need an audience. Audience is your database of contacts who communicate with your WhatsApp chatbot and live agents
You can also upload a list of your contacts to build an audience
Your entire list of contacts will be automatically stored in your Contacts module in Digital Connect. You can also add a new contact to your contacts database from the Contacts module.
We automatically check if a  phone number of your contact belongs to a valid WhatsApp account. WhatsApp will ban your account if you upload or add too many phone numbers without sending messages to them. This is likely to avoid spammers on the platform.
Audience Types:
There are 3 main types of audiences in the Campaign Manager
Entire audience
Includes all your contacts within and outside the 24-hour conversation window.
Active last 24 hours
Includes all your contacts within the 24-hour conversation window to whom you can send both WhatsApp template and   free form messages without incurring WhatsApp conversation fee. To learn more about 24-hour conversation window, click here.
List Upload
List of contacts that can be manually uploaded to the platform

Audience Segments:
Audience segmentation is the process of dividing your entire audience into segments — groups that have something in common, like gender, age, location, interests, behavior, etc. to send targeted campaigns.
With Campaign Manager you can segment your audience based on the following parameters.
Chatbot Menu
Segment your audience based on their interaction with a particular chatbot menu like selecting an option to book a service appointment via your WhatsApp Chatbot.
Customer Feedback
This type of segmentation is based on customer feedback that they provide after interacting with your chatbot and agents on WhatsApp.  It helps fix issues when customers are not happy with the service before spreading negative words about your brand. On the other hand, it enables you to strengthen your relationships with users who already like your brand.
Conversation Tags
In Digital Connect, tags are a way for you to label, or categorize, contacts based on information your agents gather about your customers during a conversation. You can segment your audience based on the assigned tags.
Customer Attributes
This type of segmentation  is based on demographic attributes.  Age, gender and geographic location are all demographics you can use to segment your audience. This method is popular for a reason: This type of segmentation can be used to target females based in particular location to send a discount offer.
You can use 2 or more of above segmentation types  together to expand your reach even further. An example of this is sending a discount offer to a customer who has interacted with your chatbot to check discounts and offers (chatbot menu) and is also based in Dubai (demographics). You can add up-to 5 rules for most segment types.
About Campaign Templates:
Templates are specific message formats that businesses use to send promotional messages to customers.
In order to build a campaign, you will need to begin with one of our templates. The template you choose depends upon type of audience you have in mind. Both types of templates support simple text and rich content (images, audio, video and documents).
WhatsApp Template
You can send campaigns to your audience outside the 24-hour conversation window  using only a template message that has been approved by WhatsApp — a special message format that you can use over and over again to message users once they have opted in and permitted you to send them messages. You should ideally use Alert Update category to submit templates with promotional content for approval to WhatsApp.
Free FormYou can use a Free form template message to send a campaign to your audience who have interacted with your chatbot within the last 24 hours — 24-hour conversation window. Free form messages do not require prior approval from WhatsApp.

For these type of messages, you can write your text, add variables, and rich content such as images, audio, videos and documents.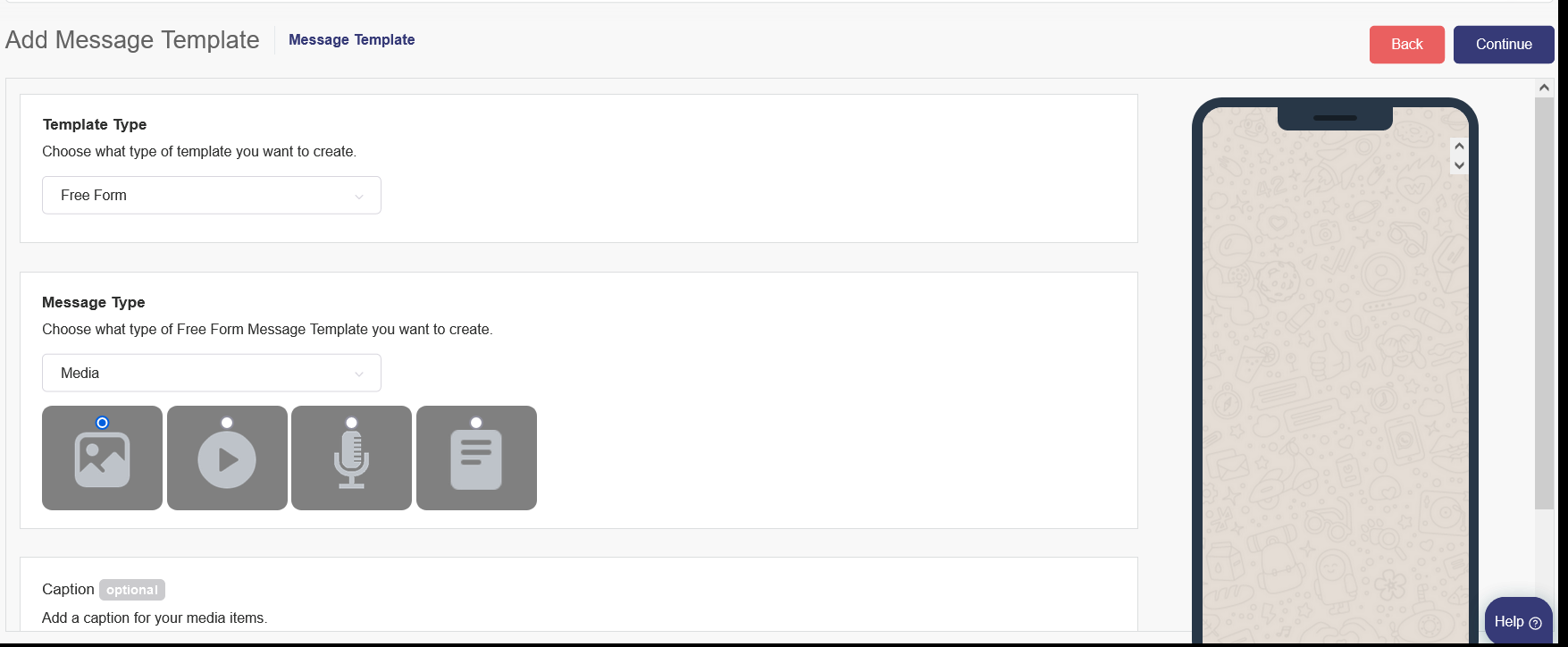 Click here to watch the video tutorial on how to create and send a WhatsApp campaign to your chatbot audience.
Learn more about WhatsApp Campaigns - Use Cases - Best practices and Guidelines
A segment is a subgroup of contacts to whom you can send targeted WhatsApp campaigns. Segments can be created by using any information available to you in the campaign manager such as chatbot interactions, tags, attributes and feedback responses.
Here's how you can build an audience segment using different segmentation types and rules to create and deliver a WhatsApp Campaign.